With Mother's Day coming up this Sunday, your Denver special events planner Blue Linden wanted to take the time to reflect on the meaning of the holiday: honoring your mom! Whether it's the mom of the bride or the groom, the women that are most important in your life should have a place in your big day. From the planning and preparation to the special moments of the ceremony and reception, we've put together a list of including and honoring your mom at your wedding.
🌸  Do pre-wedding tasks together, like flower hunting, favor assembling, or addressing and stamping invitations. If you have a comfortable enough relationship, invite her along for the parties and showers, too!
🌸  Honoring your mom at your wedding is as easy as getting dressed, and by that we mean incorporate something in your bridal wardrobe that once belonged to her. Whether it be the engagement ring that's been passed down and down, her veil, one of her favorite accessories, or sewing in a swatch of her old dress into your own, wearing her close to you will make her truly feel special.
🌸  Give the moms a full spa treatment and spoil them alongside your bridesmaids! If you've set up a bridal suite to get mani/pedis, hair, and makeup done, make sure they are enjoying the festivities as well!
🌸  At the wedding rehearsal, the typical pre-wedding family dinner, or on the morning of the wedding itself, present your mothers with a gift. The possibilities are endless; whether you're going for sentimental, practical, or thoughtful, you can come up with something that shows her she's been on your mind throughout the whole process.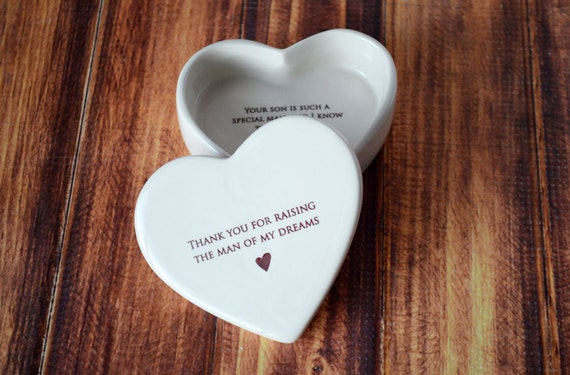 🌸  Show her off! Use pictures from her wedding and her mother's wedding for decoration at the reception. It'll also double as conversation pieces for those in attendance.
🌸  Do a "first look" with her before the festivities get in full swing. Steal a private moment while you finish getting ready or sneak away for a few minutes before walking down the aisle.
🌸  By asking her to walk down the aisle with you we could think of no better way of honoring your mom at your wedding. While it's more traditional to have your dad walk with you, walking with her or letting both of your parents accompany you could truly make the day more memorable for her.
🌸  Incorporating traditions important to the woman who raised you is a wonderful way of honoring your mom at your wedding. Even if you aren't an overly religious couple, saying a traditional prayer during the ceremony or getting married in your family church/temple/mosque are great ideas. You can also recognize your heritage, ethnicity, or nationality in any number of creative ways!
🌸  Allow the moms to participate in the ceremony. If you're doing a unity candle or sand ceremony, let each mother pass their child what's needed for the special moment. Another idea is have them each do a special reading or prayer. You could even make it a part of your vows to thank the person who birthed and raised the person you're tying your life to. There are tons of unique ways to have your mothers partake in the special and public moments.
🌸  During the reception, a great way of honoring your mom is to dance with her! Instead of the traditional daughter-father dance, do a parent-child dance. During (or after) the bride and her dad swaying back and forth, have the groom and his mom join them. You can even have a moment or two of daughters with their mothers.
🌸  Of course, the way of best honoring your mom at your wedding is to thank her publicly. During the reception, when people start toasting, get up and express your thanks for the woman who got you to your special day and your special person.
We hope our ideas for honoring your mom at your wedding can help you out during your planning process! Be creative and unique with your decisions and the special women in your life will feel all the love you have to share! If you have any other awesome ideas to share, use the social media buttons below to reach out! Oh, and don't forget to wish those women a Happy Mother's Day this weekend!